Why Climb Kilimanjaro with
Mountain Guides International?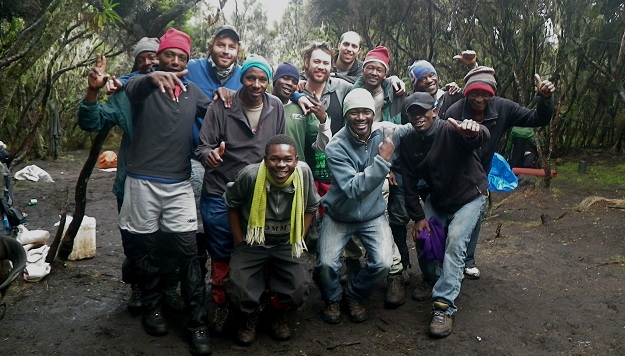 Mountain Guides International  is one of the best outfitters on Kilimanjaro. Some of the reasons for this include:
AMERICAN GUIDES ON EVERY TRIP: Our leaders are full time mountain professionals who are exemplary guides. They are dedicated to insuring our guests an experience that exceeds their expectations!
Every Kili trip that we lead draws on the experience of more than 20 years of guiding high altitude trips on Denali, Aconcagua, Kilimanjaro, The Volcanoes of Ecuador / Mexico, and high altitude peaks of the Himalayas.
TRIP SIZE:  We believe that group size is one of the most important factors determining the kind of experience our guests will have. Smaller group sizes give us the flexibility to meet individual goals and expectations, as well as to avoid some of the challenges associated with large groups.  Because of this we limit our groups to 8 guests.  We are happy to work with larger groups by special arrangements.
SAFETY: Â Mountain Guides International has a perfect safety record. We have had no major injuries or accidents in more than sixteen years of operations. This is not happenstance; your safety is our highest priority. We were the first guide service to carry satellite phones on all of our trips and continue to use them on every trip. We also carry pulse oximeters, stethoscopes, oxygen, gamow bags and expedition first aid kits on all Kilimanjaro trips. Â Our leaders are medically trained and experienced with the issues found at altitude. Â Most are certified as Wilderness Emergency Medical Technicians. Â They are experts who recognize the early signs and symptoms of altitude sickness and take action before they become issues.
SANITATION:Â Â  In our experience, most people fail to summit Kilimanjaro due to sickness caused by water or food. Because of this MGI has implemented the highest level of sanitation on the mountain. All drinking water is filtered or treated, all cooks and guests are given antibacterial hand wash, our cooks are trained to western standards. We also provide a private toilet for our guests. This extra effort has proven to keep our guests healthy and strong for the summit.
Use caution with services that use only boiled water on Kilimanjaro. The water rarely gets fully boiled, which means the bugs are alive. Do not trust your adventure to a guide service that does not provide a reliable water treatment system!
QUALITY OF SERVICE:  Customer Service and attention to detail are what set us apart!  This starts with your first email or call to our office, though the numerous questions, onto the mountain and to post trip follow up.  Our goal is to provide you the best possible trip.
The following is a partial list of our satisfied customers on Kilimanjaro: Â Outward Bound International, U.S. Military groups, Westminster College, Boy Scouts of America, Canadian Heart and Stroke Foundation, MIT Sloan and many more…
EQUIPMENT: Â MGI uses only the best outdoor gear available. To this end we have formed corporate partnerships with Patagonia, MSR, Thermarest, Sierra Designs and Black Diamond Equipment to supply all of our climbing and camping gear. This guarantees that any gear you get from us will be of the highest quality.
BEST ROUTES AND ITINERARY:
We climb the mountain via the Machame, Rongai and Lemosho routes and schedule an extra day for acclimatization on each route. This rest day greatly improves our chances for a successful summit experience.
VALUE:  MGI offers the best value of all the North American guide services that supply professional US mountain guides. Of note, our trips begin when you arrive in Africa, we don't include the days of traveling in our trip length.
INSURED: Â Mountain Guides International trips are insured for all of our international programs.
SOCIAL & ENVIRONMENTAL COMMITMENT:  Mountain Guides International proudly supports social and environmental projects in the locations where we run our trips. In Tanzania we are founding members, and support the Mount Kilimanjaro Porters Society.  Additionally, we've supported a variety  of community service projects including school and orphanage construction and educational programs for youth in Moshi.
REFERENCES:  Don't just take our word for it; we are happy to provide references from many of the guests who have joined us in the past.  Also we are the only US Guide service recommended by Cameron Burns, the author of "Kilimanjaro and East Africa, a climbing and trekking guide". Mountaineers Press.
"I cannot tell you how pleased we are that we chose Alaska Mountain Guides. With all of the work that you did in the office for us, and what Dave and Jacob did on the trail, it was truly a trip of a lifetime. Thank you very much. We will definitely recommend AMG to anyone who asks us about our trip. Thank you again for all of your hard work". – Susan, Kili 06
THE COMPETITION:  There are certainly other guide services that offer quality trips to Kilimanjaro, however most of them run group sizes of 12 to 16 people, don't provide experienced high altitude mountain guides, and most charge more.  Additionally, many don't have the medical training and expertise of an American guide on the mountain.
PRIVATE GROUPS AND DISCOUNTS: Â All groups of 4 or more receive a 10% discount. Groups of 6 or more will be treated as private trips. This means no one else will join your group and you can choose custom dates and routes with no additional cost.
ADDED VALUE: Â After your first trip with MGI, all future trips with us are 10% off.
Hope you'll be able to join us on a climb up Kilimanjaro!