Mexico Volcanoes Mountaineering
(10 days)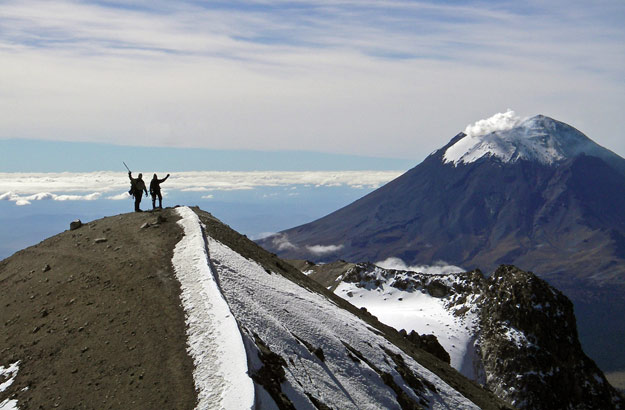 Popocateptl dominates the skyline on the descent of Ixtaccihuatl. -Eli Fierer
The Mexico Volcanoes of Ixtaccihuatl and Pico de Orizaba offer an exciting trip for individuals seeking the challenges of climbing at moderate altitude amidst an interesting cultural backdrop. It is an excellent spot for learning climbing skills, and gaining experience with climbing at altitude. All of our guides are also professional instructors who genuinely enjoy sharing their knowledge!
Our trip begins in Mexico City. We spend the first days acclimatizing with a series of scenic hikes in the highlands near the volcanoes Ixtaccihuatl and Popocatepetl. Ixta is our first climbing objective and provides a good warm up for our second climb, Pico De Orizaba. At 18,696 ft. Orizaba is the highest point in Mexico. It has fantastic climbing on several different routes. Don't forget your camera, the views of the countryside far below as the sun is rising are incredible! We'll plan a stop at the Teotihuacan Pyramids on our way back to Mexico City to explore some of the countries fascinating Aztec history.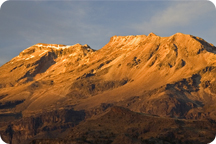 This trip has a variety of great experiences in a short period of time. The special combination of good weather, spectacular climbing and views, and interesting culture make the Volcanoes of Mexico a unique climbing destination! Please contact us if you have any questions, or if we can provide you with any additional information.
Josh, as well as his local support team Gullermo and Jessie, did an outstanding job from start to finish. In addition to his excellent mountaineerings skills, Josh displayed very impressive qualities as far as organization, improvisation and motivation were concerned. I felt as safe and comfortable in his company as I think anyone can ever hope to feel at high altitude. In addition, he was simply very good company, had a great sense of humor, and showed patience and maturity rarely seen in anyone of his age.

…your fan base has been expanded by one more satisfied participant. I hope to be able to join another AMGI trip at some future date, and would certainly not hesitate to recommend your services to others."

Best regards, and season's greetings, Knut- Mexico 2006
Highlights
MEXICO CITY: The beginning and ending spot for our trip. It is a fascinating city with lots of interesting history.
AMECAMECA: The first town we will visit. We'll have time to explore the colorful market here on our way to the volcano Ixtaccihuatl.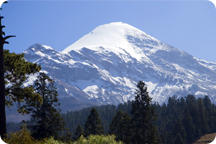 VOLCANO IXTACCIHUATL: Day hiking on the mountain will help us to acclimatize for our first climb.
VOLCANO POPOCATEPETL: Popo is currently in an active phase and not open to climbing.
TLACHICHUCA: An interesting town near our next climb on Pico De Orizaba.
ORIZABA HUT: We'll take jeeps up to the scenic hut on Orizaba. The hut has beautiful views of the surrounding country and valleys below.
VOLCANO ORIZABA CLIMB: At 18,696 ft. Pico de Orizaba has spectacular climbing on routes that are steeper, and longer than routes on Ixta. Orizaba is also a fantastic spot for practicing new mountaineering skills. This is an outstanding finish to our climbing trip in Mexico!
TEOTIHUACAN PYRAMIDS: We will spend the day at the pyramids exploring Mexico's intriguing Aztec history on our way back to Mexico City.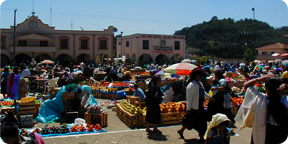 MEXICO CITY: Back to the city for flights home. There are excellent opportunities for traveling after climbing the Mexico Volcanoes. The beaches on both the Pacific and Atlantic side offer great places to relax after the trip, as well as the colorful markets in Oaxaca City to the South!
INCLUDED: Transfers, lodging and hut fees, climbing and trekking permits, transportation, park fees, all food while climbing, all group climbing and camping equipment and guide/instructor.
NOT INCLUDED: Airfare to/from Mexico City, any hotels in Mexico City, restaurant food, bottled water, alcohol and gifts.
ITINERARIES and ALTITUDE: Our itineraries include ample time for rest and acclimatization days. They are designed to provide participants with a positive high altitude experience!
GUIDES: All of our lead guides are professional mountain guides from the U.S. Their skill and experience ensure our guests the best possible experience during their trip. All of our guides are also professional climbing instructors who genuinely enjoy sharing their knowledge. This is particularly important for individuals who have not spent a lot of time at altitude and are interested in learning the safest, and most efficient ways to climb. Many companies contract out their trips, or cut costs with local lead guides. In many instances these guides are not up to the technical standards of their U.S. counterparts, and they lack the same level of awareness concerning safety and the effects of altitude.
DATES/PRICES: Please see our schedule for current dates and prices information.