Baja Sea Kayaking & Whale Watching
(10 days)
There are a myriad of Baja sea kayaking trips out there, however, none combine exploration of the rocky azure inlets of Isla Espiritu Santo in the Sea of Cortez with the incredible whale watching opportunities of Magdalena Bay on the Pacific coast. The combination of these two locations make for a unique and high quality Baja paddling experience.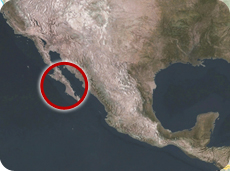 This desert wilderness is one of the best winter adventure destinations in North America and has won numerous awards and accolades from the travel industry. In addition to the warm sunny weather and awe inspiring scenery, Baja is world-renowned for close encounters with gray and blue whales. Our sea kayaking trips are an exceptional way to experience the stunning natural wonder and beauty of this environment.
The stable and easy to paddle sea kayaks are the perfect vehicle for exploration of the pristine waters of the Baja and no previous paddling experience is required. This trip is perfect for individuals and families with all equipment and instruction provided.
Our days will be spent sea kayaking, exploring desert islands, and snorkeling in the refreshing blue water while dolphins, whales, frisky sea lions and colorful fish play in the clear, warm water. Evenings will be spent relaxing in comfort at our shore side camps under a star studded sky.
Highlights
LA PAZ The trip begins and ends in La Paz: La Paz is located 800 miles south of the USA/Mexico border, on the Sea of Cortez. La Paz is the capital of Baja California Sur, and the largest city in southern Baja. It is located on a large, natural bay, and some of Baja's most beautiful islands are just a short distance offshore. For a town of over 200,000 souls La Paz has a very nice, warm feel to it. The waterfront area of La Paz (Malecon) is particularly beautiful, and the sunsets across the bay are usually quiet spectacular! Local families and tourists often gather along the recently remodeled Malecon at water's edge to enjoy this nightly show. It's the perfect place to walk before and after a meal at one of the many restaurants or sidewalk cafes.
ISLA ESPIRITU SANTO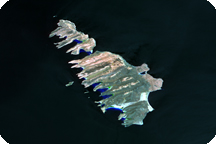 Isla Espiritu Santo is one of the premiere sea kayaking destinations in Baja California. Unique rock formations, secluded inlets, and pristine azure waters make for excellent snorkeling, sea kayaking, and hiking. The island has the most intact ecosystem in the region. Several animals on Isla Espiritu Santo are found nowhere else in the world, including the blacktailed jack rabbit, ground squirrel and two species of snake. The island is home to 53 regional endemic plant species. The waters surrounding the island support coral reefs, resident colonies of sea lions, and 500 species of fish. The Nature Conservancy has identified Isla Espiritu Santo as one of the most ecologically significant islands in the Sea of Cortez. It is part of a federally decreed Flora and Fauna Protection Area and a United Nations Biosphere Reserve.
MAGDALENA BAY Magdalena Bay is a series of lagoons sheltered from the Pacific Ocean by low barrier islands and is the winter breeding grounds of the California Gray Whale. It is one of the three large bays on Baja's Pacific coast where the whales go each year to mate and give birth from late December through March. Protected mangrove estuaries provide excellent bird viewing opportunities and exciting exploration via sea kayak.
GRAY WHALES – ESCHRICHTIUS ROBUSTUS The whales travel 5,000 miles from their Arctic feeding grounds to mate and bear their young in these protected waters. The Gray Whale is an uncommonly friendly whale, often seeking human encounters in these nursing waters. Gray whales are baleen whales which grow to around 45-50 feet or 13-15 metres long. Although gray whales live at the surface of the water near coastline, they dive to the ocean floor to feed. They scrape the ocean floor on their right hand side and filter the mud through their baleens for crustaceans. A curious mother will often approach our boats, and encourage her baby to play and frolic around the boat, sometimes blowing water on us from their blowholes. On occasion, the mother rests against the boat, waiting to be stroked; their intelligence is apparent as we look into their eyes. You can experience the whales and their newly-born calves surfacing just a few feet away from kayaks and skiffs, and if you're lucky, reach out and caress this extraordinary mammal.
Itinerary
Day 1: Arrival in La Paz airport. We'll meet you and transfer to our hotel. After checking in there will be time to explore the town. At 6:00 PM we will have a Pre-trip meeting at the hotel.

Day 2: After breakfast we'll finalize everyone's gear and head to our launch site. We'll often use boat transport out to Espiritu Santo prior to the kayak launch.Here we'll go over the basics of paddling and safety procedures before launching kayaks. It is an easy paddle to our first night's campsite.   Snorkeling and hiking are optional activities before dinner. (B,L,D)
Days 3-5: Each day affords incredible paddling in a beautiful wilderness setting.  Days are pleasantly warm and temperatures cool down in the evening.  After a tasty breakfast, we'll pack up camp and load the kayaks on our paddle to our next camping spot.  Unique, secluded inlets offer beautiful back drops for an afternoon of snorkeling, swimming, hiking up a nearby desert peak or relaxing with a good book.  Our guides are backcountry culinary specialists and are sure to prepare a delicious dinner overlooking the Sea of Cortez and spectacular sunsets. (B,L,D)
Day 6: After a morning paddle or hike, we break camp and paddle to our take-out site in the afternoon for a short trip back to La Paz. We'll check into hotel and enjoy dinner at one of our favorite local restaurants. (B,L,D)
Day 7-8: We'll camp on world renowned Magdalena Bay for a few days of incredible kayaking and whale watching. (B,L,D)
Day 9: After some whale watching in the morning, we'll drive back to La Paz. We'll enjoy a fun last night in La Paz and yummy dinner as the culmination of a great trip.(B,L)
Day 10: Flights home
INCLUDED: Professional Guides, 3 nights accommodations, all sea kayak arrangements, including camp and cook staffs, lifejackets, group gear, and other equipment, meals as noted (B=Breakfast, L=Lunch, D=Dinner), airport transfers on Days 1 and 10, motorboat transfer and support, additional guides where necessary
NOT INCLUDED: Airfare to and from La Paz, sleeping bags and pads; snorkeling gear or wetsuit (available for rental); meals not noted on itinerary; guide gratuities, excess baggage charges, airport taxes, cost of medical immunizations; and items of a personal nature.
DATES/PRICES: Please see our schedule for current dates and prices information.