Argentine Patagonia Trekking
(10 days)
On the southern edge of Patagonia, alongside the largest ice field outside Antarctica, looms the sheer granite mass of Fitzroy, the centerpiece of Argentina's Los Glaciares National Park and rising some 6,000 feet from the glaciers at its base. Often shrouded by mists and violent cloudbursts, the foreboding spires of this region have long attracted the most daring climbers and adventurers. Our trip takes you to the most remote reaches of the park – not only to the base of Fitzroy, but to the shores of Lago Toro and Lago Viedma. Along with spectacular views of Cerro Torre and the Southern Patagonia Ice Field, keep your eyes open for the massive condors that nest here! This trip is paradise for hardy trekkers who love to challenge themselves on strenuous terrain.
Patagonia's highlands are some of the most dramatic anywhere, and this unparalleled trip brings you to the very heart of this legendary landscape.
Itinerary
Day 1: Arrive in El Calafate. Your guide will meet you at the airport, and transport you to the hotel. In the evening, we'll go over your gear, to make sure that you have everything you need for the trek.
Day 2: Transportation from El Calafate to El Chalten. This is about a 6 hour drive. We'll make a short stop at Perito Moreno to see this magnificent glacier. We'll spend the night in Chalten. We'll enjoy an evening walk along Electrico river through a beautiful Lenga Forest.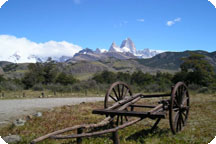 Day 3: Hike up Loma del Diablo (5,900 ft), a rarely traveled area with gorgeous views of Cerro Torre. This is a great warm-up hike with light packs. Overnight at El Chalten
Day 4: A hike up the Rio Blanco brings you to La Laguna de los Tres, where you'll be able to see the routes of technical assaults on Fitzroy. This is a relatively short 4 mile day.
Day 5: Cross Agachonas Pass, then follow the Rio Tunel to our camp near Lago Torre. Cerro Torre dominates the landscape.
Day 6: Scramble over glaciers and up scree slopes to a panoramic lookout over the Southern Patagonia Ice Field. Camp in a lateral moraine of the Viedma Glacier.
Day 7: A rest day, or time to be used elsewhere in case of inclement weather.
Day 8: Today's hike circles Cerro Huemul, in a remote part of the park. Camp in a dwarf beech forest with incredible views of the Viedma Glacier flowing into Lago Viedma. This is a remote corner of the park and we may have the chance to see condors in this area.
Day 9: We'll descend to Bahia Tunel, where we will catch our ride and return for an evening in El Chalten.
Day 10: Transport from El Chalten to El Calafate.
Day 11: Fly home from El Calafate.
INCLUDED: Professional North American Guide, Hotel in Chalten, all ground transportation in country, food in Chalten, food during trek, all group camping equipment
NOT INCLUDED: Personal clothing and equipment, Hotel in El Calafate, Food in El Calafate, and Drinks.
DATES/PRICES: Please see our schedule for current dates and prices information.