Markha Valley Trekking
(16 days)
This is your chance to explore the high mountains of Northern India and experience the Buddhist and Hindu culture of this ancient civilization. Our trip begins in Ladakh Region, a land of high passes on the border of India and Tibet. It is the highest, most remote and least populated region in India. Ladakh is often described as a mountain desert with its chaotic ridges, twisted and exposed geological strata, snow shrouded peaks, dark gorges and wide valleys. Our route follows The Markha Valley and is one of Ladakh's most beautiful and popular treks. Its length, accessibility and variation of landscape have ensured its classic status. Stunning scenery, and interesting culture are the highlights. Before trekking we will acclimatize in Leh, the capital of Ladakh, which lies nestled among low hills on the north side of the Indus Valley, between the Stok Mountains to the south and the Ladakh range to the north. We spend the first three days here at an altitude of 11,500ft, acclimatizing and exploring the fascinating villages, and monasteries. The trek begins about 7kms from Leh and passes through the Hemis National Park, Markha valley, and ends at Hemis. The trek travels through two high passes, Ganda-La 15,910ft and Kongmaru-La 16,730ft and also provides excellent views of the most popular peaks in the region namely Stok Kangri [6121m] and Kang Yatze [6400m]. Trekking in Ladakh is normally in the form of a traditional caravan wherein ponies/mule/yak carries most of the load. Hikers will carry a daypack that contains extra layers, camera, water, snacks, etc.
NEW DELHI: New Delhi is the starting and ending place for this trip. We stay here the first and last night of this trip.
AIRLINE TICKETS: AIRLINE TICKETS: Port of entry and exit is New Delhi [Capital city of India]. Kindly include Delhi/Leh/Delhi sector along with the main ticket. Delhi/Leh/Delhi sector can be very heavily booked depending on tourist traffic during the season. It is advisable to have confirmed bookings for this sector. Domestic Carriers Indian Airlines and Jet Airways operate here.
VISAS: People of all nationalities are required to have a valid passport and a visa. Visas are issued at Indian embassies. They are valid for 120 days and must be obtained no more than 6 months before your arrival in India.
TRAVEL INSURANCE: We recommend travel insurance. Please call us for current details.
PHOTOCOPY ALL DOCUMENTS: Make certain to copy your passport, airline tickets, credit cards, traveler's cheques etc. This can be very helpful in the event anything is lost or stolen.
CREDIT CARDS: Visa and Mastercard are accepted in cities like New Delhi. Cards like American Express are not widely accepted. Credit cards are not accepted in most places in Leh. It is better to exchange currency at New Delhi for all expenses in Leh and beyond.
CURRENCY: The Indian Currency is RUPEES and PAISA. [100paisa = 1rupee]
LANGUAGE: Hindi is the national language of India. However, English is very widely spoken.
IMMUNIZATIONS: We recommend that you check with your doctor for the most current immunization information. If you have received immunizations, either in the past or for this trip, make certain to bring your immunization book/card. You can go to the Center for Disease Control website to learn more.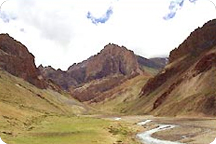 TREKKING DIFFICULTY: Moderate to Strenuous. Maximum elevation gained is 5030m [16750ft]
OUR GUIDES: Alaska Mountain Guides International Inc. instructors and guides are professionals. They are exceptional individuals who have a passion for being in the mountain environment, and have a wealth of experience from guiding throughout the world. All of our staff genuinely enjoy sharing their knowledge. Their skill and positive attitudes help our guests to have the best possible experience during their trip. Your safety, success, and enjoyment are their primary goals.
LENGTH: The trip takes 16 days from New Delhi to New Delhi.
INCLUDED: Hotels in New Delhi and Leh, ground transportation in Country, all food during the trip, guides, sales taxes, and all group climbing and camping equipment (tents, stoves, etc).
Itinerary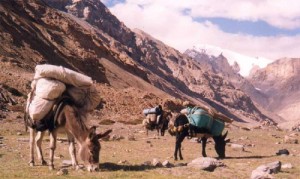 Day 1: Arrival in New Delhi
Day 2: Delhi to Leh by early morning flight, and rest
Day 3 & 4: Walking around Leh and visiting Leh Palace, Monasteries and small villages for acclimatization.
Day 5: Start of the trek from Spitok Spitok to Rumbak [3750m, 6-7hrs walking time]
Day 6: Rumbak to Yurutse [4150m, 5-6hrs walking time]
Day 7: Yurutse to Markha valley and Skiu via Ganda-La [4920m pass, 8hrs walking time] camping in Skiu at 3700m
Day 8: Rest day / lay over at Skiu
Visits to Zanskar River and nearby settlements and monasteries.
Day 9: Skiu to Markha [3850m, 8hrs ]
Day 10: Markha to Tahungtse [4200m, 7hrs ]
Day 11: Tahungtse to Nimaling [4650m, 3-4hrs, excellent views of peak Kangyatse [6400m]
DATES/PRICES: Please see our schedule for current dates and prices information.