Kilimanjaro (19,340 ft)
(10 & 11 days)
CLIMB THE HIGHEST MOUNTAIN IN AFRICA!
Join us for an unforgettable adventure on Mt Kilimanjaro, one of the "Seven Summits!" We climb Kilimanjaro via the Machame, Lemosho, and Rongai Routes. These are fantastic routes with incredible scenery. They are non-technical and give climbers a chance to climb at altitude amidst an amazing backdrop. We combine ascents of these routes with a descent of the normal route to complete a loop of the mountain. This is an amazing way to see all that Kilimanjaro has to offer, and to miss the crowds. Our itineraries are designed to give participants a positive high altitude experience. We have found that this makes a big difference in being well acclimatized and feeling strong for summit day!
Kilimanjaro Information:
Itineraries:
 It is an experience beyond all expectations.  I personally find it impossible to not respond to such an amazing operation performing so efficiently.  With all the variables involved that can rarely be prepared for, from weather to that most difficult unpredictable ingredient, the customer.

-Chet R.
July 25th 2012 Lemosho Route Expedition
Many of our Kilimanjaro climbs are timed to summit with the full moon so you can enjoy incredible views. Check the schedule for all available departure dates!
"MGI is the only US based guide service that I recommend." Cameron Burns, Author "Kilimanjaro and East Africa, a climbing and trekking guide."
MGI is proud to have a 98% success rate on Kilimanjaro!
Mountain Guides International is one of the best guide services on Kilimanjaro and is the choice of many groups to lead their fundraising or group climbs. Some of our clients include: The Canadian Heart Association, Outward Bound International, The Boy Scouts of America, National Public Radio, etc.
REFERENCES: Don't just take our word for it. We are happy to provide both individual and group references.
THANK YOU for arranging such a super adventure for us. Bill is a great guy, knowledgeable, fun, competent, and very encouraging. All the porters on our 'team' were splendid. We had great food every day; my friends are amazed at the menus I've described. The sleeping bags and pads from MGI were outstanding. It was the experience of a lifetime for both of us. And we couldn't have been better cared for.

Thanks again!
–Jane W.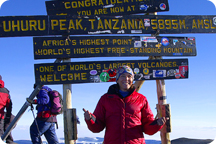 The trip was absolutely amazing! It was all I could have asked for and more. Bill was simply a superb trip leader and mountain guide — I can't say enough good things about him. His good nature, sense of humor, organizational skills, mountaineering skills, and ability to interact with all age levels were evident in all he did. I have already recommended Alaska Mountain Guides, and this trip in particular, to many of my friends and hope to travel with your organization in the future. Thanks again for making my dream of climbing Kilimanjaro come true!

–Susan
Hi Darsie, I just want to thank you and your staff on the best adventure of my life. Josh and Abdi were the best guides on the mountain. Thank you so much for all the great memories of Africa!
–Sandy K.
Kilimanjaro Highlights
MOSHI: This is where our trip begins and ends. Moshi is an interesting town located near the flanks of Kilimanjaro. It is a great spot to relax before and after the trip.
MACHAME OR RONGAI ROUTE: Both of these routes include great hiking through all the unique ecological zones, fantastic views, and camps that are appropriately spaced for acclimatization.
LEMOSHO ROUTE: The Lemosho route is considered the most gentle and perhaps easiest route on the mountain. We do this route in 8 days which is one more day than the Machame or Rongai. It also includes fine hiking in all the ecological zones and affords great views. This is the route we use for our specialty trips led by Kilimanjaro guide book author, Cameron Burns.
KILIMANJARO'S CRATER: On our way to the summit we will hike right along the crater rim. This is definitely a highlight of the climb. There are awesome views of the glaciers both inside the crater, and down the Machame/ Shira routes!
LOOP ROUTE: By descending the normal route we complete a loop around the mountain. An exciting way to explore Kilimanjaro!
SAFARI OPTIONS: Climbing on Kilimanjaro can easily be combined with safaris in several of Africa's finest wildlife viewing areas including: Lake Manyara, Ngorongoro Crater, and the Serengeti.

Kilimanjaro Details
INCLUDED: ALL INCLUSIVE MOSHI TO MOSHI. Transfers, hotels in Moshi, local guides/porters, climbing and trekking permits, transportation, park fees, hut fees, camping fees, all food while climbing, all group climbing and camping equipment and U.S. guide.
NOT INCLUDED: Airfare to/from Africa, restaurant food in Moshi, bottled water, alcohol, gifts, tips, visas, and departure taxes.
ITINERARIES & ALTITUDE: Our itineraries include ample time for rest and acclimatization days. They are designed to provide participants with a positive high altitude experience.
LENGTH: 10 days total for Machame climb, 10 days total for Rongai, 11 days for Lemosho.
DIFFICULTY: Moderate to difficult trekking at altitude.
History
East Africa and the nearby Olduvai Gorge in the Great Rift Valley is thought to be the cradle of mankind. A native Wachagga legend tells of Mawenzi (now one of the lesser peaks of Kilimanjaro) receiving fire for its pipe from his younger brother Kibo (another lesser peak). The Wachagga who live on the fertile volcanic soils around the base of the mountain probably only came to the area about 3000 years ago thus this legend suggests very recent activity. Another of their legends talks of demons and evil spirits living on the mountain and guarding immense treasures. Stories are told of a king who decided to go to the top, few of his party survived and those who did had damaged arms and legs.
Arab and Chinese traders and historians make mention of a giant mountain lying inland from Mombasa or Zanzibar but few early traders ventured into the interior of the continent. Slave traders passed below it and sometimes raided the villages of the Wachagga but it was not till the middle of the 19th century that a more serious interest was taken in the mountain and attempts were made to scale it.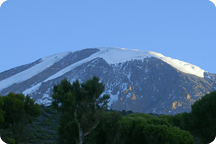 In 1848 Johann Rebmann a missionary from Gerlingen in Germany while crossing the plains of Tsavo saw Mount Kilimanjaro. His guide talked of baridi – cold, and of tales how a group of porters were sent up the mountain to bring back the silver or other treasures from the summit.They came back only with water. Rebmann's report stimulated great interest in Germany and in the following years several expeditions were organised; first by Baron von Decken then later by Dr. Hans Meyer who finally stood on the highest point on the 5th of October 1889.
The origins of the name Kilimanjaro presents somewhat of a dilemma. Many people believe the name is derived from the Kishwahili tribal name, Kilima meaning mountain. The local Wachagga people claim to have no name for Kilimanjaro, but did name the dual peaks Kipoo and Kimawenzi.
Dates/Prices
Please see our schedule for current dates and prices information.