MGI operates in Mendoza, Argentina climbing South America's tallest peak, Aconcagua (22,841'). In addition to the MGI expeditions on Aconcagua, our sister company, the International Wilderness Leadership School offers several Leadership & Guide Training courses throughout Argentina. Hone your skills as a rock climber on the alpine granite of Cajon de Arenales or explore remote peaks south of Aconcagua.
Argentina Trips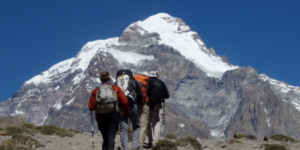 Discover an incredible climbing experience for individuals seeking the challenges of a high altitude climbing expedition in a spectacular setting by climbing Aconcagua, situated in the heart of the Andes of Argentina near the border with Chile.
Destination: Cerro Aconcagua, Argentina
Activity: Mountaineering
Difficulty: 4 out of 5
Argentina Mountaineering Course
Price: $4150*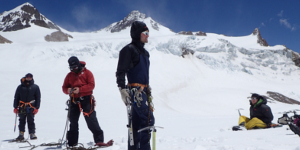 Glaciated peaks surround Aconcagua's flanks and offer students world class mountaineering objectives. During the IWLS guide training mountaineering course, students develop high altitude technical mountaineering & leadership skills.
Destination: Central Andes
Activity: Mountaineering
Difficulty: 3 out of 5
Rock Climbing Leadership and Guide Training
Price: $2550*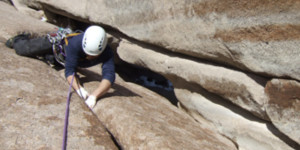 Climb some of the highest quality granite in a range of great crack climbs, tenuous sport routes, and long, multi-pitch alpine climbs, all while learning the skills to guide in this beautiful terrain.
Destination: Cajón de Arenales
Activity: Rock Climbing
Difficulty: 3 out of 5
*Starting from prices, per person, in USD