Why Climb Aconcagua with MGI?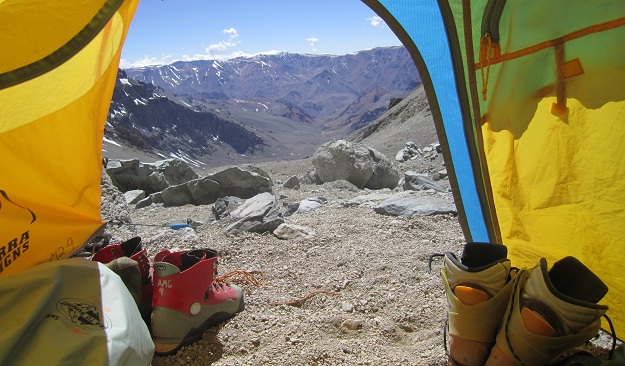 "We had opted to spend a couple of extra days waiting at Aconcagua's high camp in an effort to better negotiate the tricky weather, and maximize our chance for the summit. That night we experienced temperatures well below freezing and consistent winds over 70mph. The other guide and I were in and out of the tent every 15 to 30 minutes, retying guy lines, securing zippers, fixing poles and delivering hot water to our guests. It was truly an unforgettable experience. The next morning high camp looked like a war zone. Out of three teams, our tents were the only ones still standing. All night maintenance was certainly a factor, however I attribute a large portion of this to the high standards, training and rigging expertise the owners of MGI have bestowed in us.

A large lenticular cloud looked discouraging for the following day, and motivation was diminishing. The two other guided groups at high camp packed up and retreated off of the mountain. The weather report indicated a marginal chance for improvement the following day, so… I presented a colorful motivational dialogue to the team to stick it out another night and give it another day. Sure enough, our weather window prevailed.

Our summit bid, though not without its struggle, was quite straightforward. That day we were the only ones to stand on top of the White Sentinel, and the feeling of accomplishment and ecstasy was unsurpassed. We descended to Plaza de Mulas the following day only to learn that the weather had indeed returned and denied yet another three summit teams. A quote by Louis Pasteur sums up the trip best "chance favors only the prepared mind." At MGI I have the privilege of working with some of the most dedicated and prepared minds in the industry."
– MGI guide Travis Tucker
ROUTES
All of our Aconcagua expeditions begin and end in Mendoza, Argentina. After meeting your MGI guides upon arrival at the airport and checking in with the permit office in town, we head up to Penitentes at 9,000 feet (2,750m), our gateway to the mountain. We lead three different routes up Aconcagua. Each route is supported by mules to base camp and incorporates a conservative acclimatization schedule, allowing ample extra days for a successful summit day.
VACAS ROUTE
From Penitentes our primary route on Aconcagua begins in the substantially less traveled Vacas valley on the east side of the mountain. The three day approach brings us to Plaza de Argentina, the smaller and quieter setting of the two major basecamps. From this camp the route ascends along a variation of the False Polish Traverse route on the north east side of the mountain and descends via the "Normal" route on the west side. These two routes meet at high camp, which means you will need only to carry a light pack on summit day. The traverse style route offers unmatched views from all sides of the mountain and sees only about 10 to 15% of the traffic that the "Normal" route encounters.
SUCCESS RATE
Since 1992, we've had one of the highest summit success rates on Aconcagua. Over the past 5 years, we've enjoyed a 100% expedition success rate and over 91% success rate for all team members. This high percentage is due to our conservative itineraries, acclimatization schedules, small group size, and world class guide team.
EXPERIENCE
With over 150 Aconcagua expeditions in the past 20 years and a perfect safety record, MGI is the number one guide service on Aconcagua. Sean Gaffney, president of MGI, was the first to pioneer the route up the remote Upper Vacas Valley. Additionally, our extensive experience of leading high altitude mountaineering expeditions on all seven continents contributes to a safer and more successful climb on Aconcagua.
GROUP SIZE
A small group size is one of the most important variables in determining how a trip will run. A small group is safer, has a greater chance of success and avoids conflicts that are unavoidable with larger groups. It also allows for a more flexible, personalized approach to climbing the mountain. At Mountain Guides International we limit trip size on Aconcagua to eight guests, but most trips experience a 1:3 guide to client ratio.
RATE OF ASCENT
Rate of ascent is one of the most important things to consider when climbing a big mountain. Many services try to rush people up the mountain. This frequently creates a situation where many members of the group are not acclimatized enough to enjoy themselves or perform well on summit day. The reason most groups do not summit on Aconcagua is not because of bad weather, but simply because they move up the mountain too fast! At MGI our itineraries are designed to provide individuals with a positive high altitude experience. They include ample time for rest, weather and acclimatization days. We always use three camps above base camp, which dramatically increases the safety and success of our guests due to better acclimatization.
EXTRA WEATHER DAYS AND REST DAYS
We incorporate a minimum of three rest days and extra time at base camp to facilitate acclimatization. In addition, we dedicate three days from high camp to make our summit bid. The combination of being well acclimated and positioned to take advantage of good weather directly results in the high success rate that we've had on Aconcagua over the past twenty years.
PULSE OXIMETERS AND SATELLITE PHONES
Pulse oximeters are small, precise, medical instruments that give a digital readout of the oxygen saturation in your bloodstream, indicating how you are acclimatizing. With this information we can make the best decisions on how to tailor the trip to meet your individual needs. We use them every step of the way, on every Aconcagua climb. In our opinion, all high altitude guides should have one to help assure your safety. We also use satellite phones and radios on the mountain to provide the optimum ability to communicate and plan.
VALUE
All climbing and logistical costs are included from Mendoza to Mendoza. This includes the climbing permit, lodging and meals in Penitentes, mule costs in and out of base camp, group gear and food on the mountain. Many guiding companies don't include the permit cost.
GUIDES
Mountain Guides International guides are professionals and high altitude experts. They are special individuals who have a passion for climbing Aconcagua and being in the mountain environment. They bring a wealth of experience from guiding around the world to every trip. Their skill and positive attitudes ensure our guests a great experience during their climb. All of our lead guides are also WEMT certified and professional climbing instructors who genuinely enjoy sharing their knowledge. This can be an important consideration for individuals who have not spent a lot of time at altitude, and are interested in learning the safest and most efficient ways to climb a big mountain.