Nepal Whitewater Rafting
(7-24 days)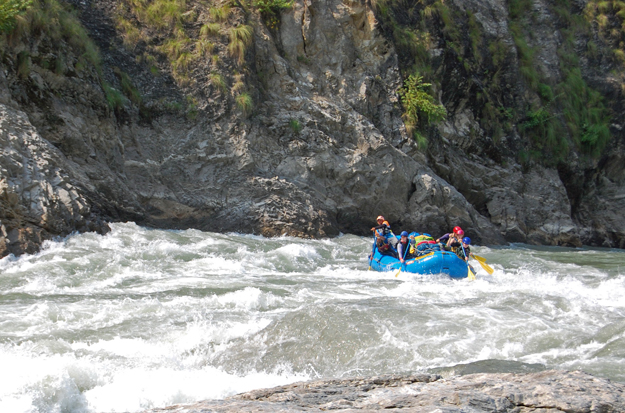 The Sun Kosi and Karnali Rivers are two of the largest drainages in Nepal.  The Sun Kosi descends from the great Mahabharay Lekh Mountains and the Himalaya, encompassing the majority of eastern Nepal's watershed.  The Karnali, of western Nepal, is the longest and largest river in the country.  These world renowned river expeditions offer exciting Class IV+ rapids amidst a unique wilderness and culture.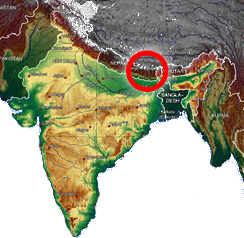 From transporting rafting equipment on yaks, rafting through Himalayan fed rivers, and interacting with local villagers, guests will experience an exotic and exciting whitewater expedition in Nepal.
OUR GUIDES: Mountain Guides International Inc. instructors and guides are professionals. They are special individuals who have a passion for being in the mountain environment. They bring a wealth of experience from guiding throughout Alaska, and the world, to every trip. All of our guides are also climbing instructors who genuinely enjoy sharing their knowledge. Their skill and positive attitudes insure our guests the best possible experience during their trip. Your safety and enjoyment are their primary goals.
INCLUDED: Transportation during the trip, all food during the trip, professional instructors/guides, and all group rafting and camping equipment.
-Eli Fierer
NOT INCLUDED: Airfare to/from Nepal, hotel and food in Kathmandu, water bottles and snacks, tips for your guide, and personal equipment.
ADDITIONAL TRAVEL OPTIONS: Nepal is a fantastic location to travel and experience a wide range of activites.  We offer high altitude trekking and mountaineering trips to Everest base camp and through the Khumbu Valley.  Contact us if you would like more information.
DATES & PRICES Please see our schedule for current dates and price information.