Copper Canyon Backpacking & Canyoneering
(10 days)
Join us for this exciting adventure into the heartland of Mexico!
Located in the state of Chihuahua, the Copper Canyon (Barranco de Cobre in Spanish) is one of the most unique canyon systems in the world. Three of the four deepest canyons in North America lie within this spectacular region of rugged canyon walls, beautiful hot spring pools, and amazing vistas.
The Copper Canyon country is home to the Tarahumara Indians. They are the second largest tribe of native North Americans after the Navajos, and are renowned for their long distance running prowess. Visiting this beautiful homeland of the Tarahumara is a rich cultural experience.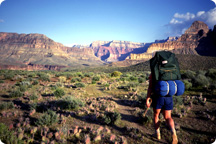 Brian and Diego did a great job! Their technical competence in the steeper sections of the canyon made me feel at ease. It was truly an amazing experience and I've told all my friends about the great time I had with AMGI.
-Stacey D.
Highlights
CHIHUAHUA: After arriving in Chihuahua, we'll take the train to the town of Creel and then head south to our access point for the canyons.
RAILROAD: Built in 1961, the train from Chihuahua to the Copper Canyon in an engineering marvel. With over 80 tunnels and 30 bridges, it passes through remarkably beautiful country.
RIO URIQUE: This trip explores the tributaries, box canyons, and pools of the Rio Urique. Complete with steep canyon walls and aqua blue swimming holes, the Urique is a highlight of this journey.
SEASON: The best time to visit the Copper Canyon is late November to Early March. In the summer, the temperatures can be unbearably hot.
INCLUDED: Transfers, permits, transportation, park fees, all food while backpacking, all group camping equipment and guide.
NOT INCLUDED: Airfare to/from Chihuahua, any hotels in Chihuahua, restaurant food, bottled water, alcohol and gifts.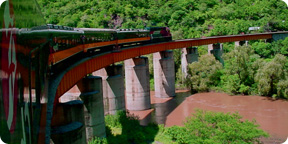 ITINERARIES: Our itineraries include ample time for rest and side exploration. They are designed to provide participants with a positive experience!
GUIDES: All of our lead guides are professional mountain guides from the U.S. Their skill and experience ensure our guests the best possible experience during their trip. All of our guides are also professional instructors who genuinely enjoy sharing their knowledge. Many companies contract out their trips, or cut costs with local lead guides. In many instances these guides are not up to the technical standards of their U.S. counterparts, and they lack the same level of awareness concerning safety.
DATES/PRICES: Please see our schedule for current dates and prices information.