Vinson Massif (16,067′)
(19 days)
Alaska Mountain Guides International Inc. is proud to announce guaranteed departures to Antarctica's highest peak; Mount Vinson. At 16,067ft (4897m) Mt. Vinson offers climbers a moderate climb and an incredible experience on the world's southernmost continent and one of the seven summits! Part of the Ellsworth Mountain Range, Vinson is located just 600 miles from the south pole. During this expedition climbers will experience amazing Antarctic views, temperatures around twenty degrees below zero, and 24 hour sunlight.
Our Mt. Vinson Itinerary leaves Punta Arenas in Chile and takes us over Tierra del Fuego to Patriot Hills. This is a six hour flight. From there it is another hour long flight to our base camp. We utilize two to three camps along the way before attempting the summit. The summit push is mostly moderate snow and some ice climbing. However, because of the extreme cold temperatures on Mt. Vinson the climb is considered to be very difficult. After climbing we return to our base camp and take flights back to Patriot Hills and Punta Arenas.
Highlights
Punta Arenas: Often referred to as the most interesting city in Patagonia, this coastal town is host to turn of the century architecture financed by the once bustling wool industry. Punta Arenas is our starting point for our Mt. Vinson trips. In addition to the sights Punta Arenas is also known for its great food and dining. If time permits a visit to the Museo Regional De Magellan's, the original Punta Arenas mansion and a half-day tour of the Penguin rookery is definitely recommended.
Patriot Hills: Located about 1800 miles from the nearest city, Patriot Hills is a private camp that houses 48 people and contains a full dining area and kitchen. The camp utilizes specially designed insulated tents with flooring that make stays here quite enjoyable.
Base Camp: Located at 7,000ft on the lower part of the Branscomb Glacier on the west side of the Ellsworth Mountains, our base camp provides a safe and comfortable platform for us to begin our expedition.
Details
Included: Airport/Hotel Transfers, all meals from Punta Arenas to Punta Arenas, group climbing and camping equipment, and guides.
Not included: Meals and hotels in Punta Arenas, airfare to/from Punta Arenas, rescue/evacuation and travel insurance bottled water, soda, and alcohol.
Difficulty: Moderate. Guests on this climb need to have some mountaineering experience, specifically roped glacier travel and cold weather camping skills. High altitude experience is recommended but not required. This climb is often compared to the West Buttress of Denali however it is colder and more isolated making it a serious objective for mountaineers.
Trip Length: 19 days from Punta Arenas to Punta Arenas, however the itinerary is subject to change due to weather, route conditions, and other reasons beyond our control.
General Itinerary
Day 1: On the first day of the trip, guests meet with their guides in Punta Arenas and finish last minute preperations for the trip. This includes a gear check and group familiarization with what to expect in the coming days.
Day 2 – 3: Once the weather is determined safe for travel, we leave Punta Arenas for Patriot Hills, a six hour flight, with a spectacular crossing of the straits of Magellan and the Bellingshausen Sea in addition to our first sightings of the white continent. We land at Patriot Hills Airport, the southernmost runway in the world and spend the night there.
Day 4 – 5: After spending the night at Patriot Hills we then transfer to a ski plane aircraft for the 1 hour flight to our climbing base camp. From here we establish our camp, divide up gear betwen backpacks and sleds, and begin our ascent.
Day 6: We ascend the Branscomb Glacier for 2 miles to Camp I at 9,100ft. From this incredable setting, the summit of Vinson rises above us and the neighboring peaks of Shinn and Gardner come into view.
Day 7: From Camp I we ascend 1,000ft in about 1.5 miles to the foot of a large headwall and establish Camp II at 10,100ft. Here we leave sleds and an establish a cache of emergency food.
Day 8: After spending the night at Camp II we climb 2,300ft up the headwall on moderate snow slopes to a col between Mt Vinson and Mt Shinn. We establish Camp III at 12,300ft here.
Day 9: Camp III, our high camp, offers incredible views of the Ronne Ice Shelf, Mount Shin and Mount Vinson. We take a rest day here to enhance acclimatization prior to attempting the summit.
Day 10: Summit day begins with a 3-mile traverse and a 3,000ft gain in elevation. Continuing on, we ascend a hard snow surface of moderate steepness to reach the summit ridge. From here the summit stands within easy reach and from the top the views are simply unforgettable!
Day 11: We return to our climbing base camp and await pick-up from our ski plane.
Day 12: Fly from base camp to Patriot Hills. We overnight at Patriot Hills.
Day 13: Leave Patriot Hills for Punta Arenas. Celebration and Relaxation.
Day 14 – 18: Reserve days for weather and acclimatization.
Day 19: Day 19: Enjoy Punta Arenas and take flights home. Or begin a trek in Patagonia!
Temperature and Weather Considerations in Antarctica
Temperatures in the Antarctic interior can range from 20F to -30F. (5Cto -20C) The wind is generally constant and lowers the temperature significantly. Because of this extreme cold proper clothing and gear is essential. On Mt Vinson the winds can gust up to 120mph or more taking climbers off their feet. Although we do our very best to follow the schedule, out trip itinerary is subject to change due to weather, route conditions, and other reasons beyond our control.
Antarctica's Geography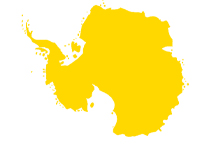 Antarctica's geography is different from any other place on earth. As the fifth largest continent Antarctica covers an area of about 14,000,000 square kilometers. Unlike its counterpart in the north, there is hard land underneath the southern ice cap however the continent itself is almost completely submerged beneath the thick ice layer that hides much of the underlying topography. At its thickest the ice is over 15,000ft and only about 1% of Antarctica's total surface area is bare rock.
Geologists believe that Antarctica is one of the oldest continents on Earth and plant fossils as well as vertebrates like reptiles and amphibians can be found buried there. This evidence indicates that Antarctica was not always completely ice covered but rather it, at one point, had a similar climate to New Zealand or southern South America. The reason for the now prevalent ice coverage is considered to be related to the drift of continental land masses over the course of geologic time. However it is believed that the Antarctic ice cap is shrinking and that the present day ice sheet covers about 90% of its former maximum extent, raising concerns about rising ocean levels. If Antarctica's ice sheet was to melt entirely it would raise the level of the world's oceans about two hundred feet.
Antarctica's Human History
Because of its extreme weather and isolation there is little historical human interactions until relatively recently. In fact, Antarctica remained undiscovered until less than two hundred years ago. Even after it was discovered little else was known of the icy continent until research began picking up within the last one hundred years. The Antarctic continent was first seen by human eyes in 1820 however historians disagree on who exactly saw it first. Credit for being the first man to see the continent has been divided between three men who made separate voyages to Antarctica that year. They are Fabian von Bellingshausen, a captain in the Russian Imperial Navy, Edward Bransfield, a captain in the British navy, and Nathaniel Brown Palmer, an American sailor.
In 1840 a Frenchman, Jules-Sè¡¡stien-C財r Dumont d'Urville, became the first person to set foot on Antarctica. Much later in 1898, A British-funded expedition headed by Carsten Egeberg Borchgrevink was the first to set up a full base on Antarctica. This would be the beginning of extensive Antarctic expeditions and research. From 1901 to 1904 The Briton Capt. Robert Falcon Scott led the National Antarctic Expedition, often referred to as the "Discovery expedition" during which many important geographical and scientific discoveries were made. In 1911 a Norwegian named Roald Gravning Amundsen and his party were able to reach the South Pole. The Famous Ernest Shackleton attempt to cross the "South Polar continent from sea to sea" occurred in 1914. Although the attempt failed after his ship, the Endurance, was trapped and crushed in the Wendell Sea, no lives were lost. Between 1945 and 1957 The U.S. Navy conducted Operation Highjump, the largest expedition ever sent to Antarctica and during this time period set up McMurdo Station now Antarctica's main research facility.
Throughout all these expeditions there was still many doubts as to the actual ownership of the Antarctica continent, with many countries staking their clame. In 1959 The Antarctic Treaty was signed establishing the legal framework for the management of Antarctica by twenty four different countries. This agreement carved up Antarctica's surface giving it to countries whose expeditions had lay claim to it earlier.
In recent years, Antarctica's history has been characterised by international scientific cooperation and increasing concerns about the continent's future. While for the moment the Antarctic landmass has been spared mining activity, chunks of ice bigger than many small countries are breaking off the ice shelf, adding to fears that effects of global warming are already starting to take effect.
DATES/PRICES: Please see our schedule for current dates and prices information.